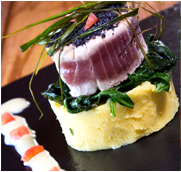 Welcome to Antoine's Restaurant. Our new location features an elegant continental menu in a cozy and sophisticated environment. Our artisanal cuisine offers elaborate seafood specials including PEI mussels prepared 7 different ways and served with the best fries in Sarasota.
We proudly prepare everything in house including bread, pasta, dressings, desserts… and offer a wide selection of wine and beer. 
A special lunch menu featuring our award winning goat cheese salad is available for groups of 8 or more on reservation only.
We hope you'll enjoy your visit to our restaurant and don't miss
Monday Mussel Mania with $21 All You Can Eat Mussels 5 different ways!
_____________________________________________
5020 Fruitville road, Sarasota, Florida 34232