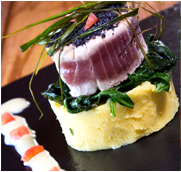 Dear friends,
Antoine's is now almost 2 years old and, as much as we've loved making this old KFC into our own special place, most of you are aware that it is not the most suited space and that the humongous kitchen does not exactly make Angela's life easy.
Thus the time has come for us to move. We are humbled by the overwhelming response we have received from all of you to our food, service and passion and want to assure you that we don't intend to change.
Our goal is to continue to provide you with the same level of gastronomy and personal service in an intimate atmosphere. After some well deserved rest, we will be opening our new Sarasota location this July.
In the meantime, we will remain joinable at the same telephone number and email address. For more information, sign up for our newsletter
Thank you all for your patronage and friendship, we will see you soon!
Angela and Olivier
_____________________________________________
5020 Fruitville road, Sarasota, Florida 34232